Top 3 for Desktop Computers
When it comes to finding a desktop computer that can handle all of your needs, it is important to consider what type of tasks you will be using it for most often. If you are a casual user who primarily uses their computer for browsing the web and checking email, a lower-powered model will likely suffice. Those who frequently use resource-intensive programs such as video editing software or video games, on the other hand, will need a more powerful machine. Similarly, if you plan on storing a lot of files locally on your computer, you will need to make sure it has enough storage space. Once you have considered how you will primarily be using your desktop computer, you can begin to narrow down your choices to find the perfect model for your needs.
1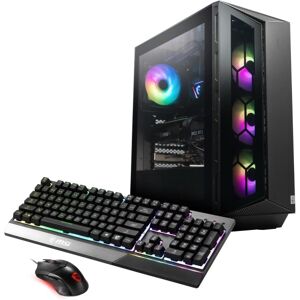 The Aegis RS is built exclusively with MSI components that are tried and true in performance and reliability. All MSI components undergo rigorous quality control to ensure reliability and durability for a superior PC performance. The Aegis RS is built to last with its easy upgradability. Start your journey to becoming an Esports champion with the Aegis RS. A slick matte black desktop with a premium build made exclusively for pro-level gaming. As your game advances, so will the Aegis RS with its simple upgradability. It's built to be your companion for the long road ahead on your quest to becoming the world's best.
View
OptiPlex 7000 7090 Desktop Computer - Intel Core i5 10th Gen i5-10505 Hexa-core (6 Core) 3.20 GHz - 16 GB RAM DDR4 SDRAM - 256 GB M.2 PCI Express
2
OPTIPLEX 7090 TOWER, SMALL FORM FACTOR AND MICRO l Intelligent desktops built to deliver ultimate expandability and performance. IMMERSIVE PRODUCTIVITY Experience better visuals for 3D rendering and 4K monitor use, even with the micro which supports discrete graphics. The new tower is optimized for commercial virtual reality experiences. Designed to support high-end, ready for VR, 220W-class graphics cards, including NVIDIA GEForce RTX 3070, the tower can tackle graphic intensive workloads easilyPOWER THROUGH YOUR WORKDAY Built with up to 11th gen Intel Core i9 processors, experience the most powerful OptiPlex yet. The OptiPlex 7090 tower features a 125W CPU and up to 128GB 3200MHz DDR4 RAM to deliver uncompromising performance. 256 GB...
View
Envy Desktop Computer 319M5AA ABA
3

Free Express Shipping! HP Envy Desktop Computer 2.10 GHz Intel Core-i7 12-Core, 16GB DDR4-3200 RAM, Integrated Intel UHD Graphics 770, 512GB M.2 SSD + 1TB 7200 rpm HDD, 1 x Gigabit Ethernet, Wi-Fi 6 (802.11ax) - Bluetooth 5.2, USB 3.2 Gen 2 &1 Type-A &...
View
Desktop Computers
Choosing the right desktop computer requires some preparations. Do you have a huge photo and video collection? Consider choosing desktop with a SSD harddrive to be guaranteed of a lot of storage capacity. Do you like to play games or do you need to be able to do professional photo and video editing? You'll need sufficient working memory and a powerfull graphics card. Let us help you find the right desktop computer that matches your requirements. Think about what kind of computer you need, use our filters to drill down the results and find your new desktop computer at the right price.
Please select at least 2 products for your comparison
Show comparison