Top 3 for Computers
Computers and laptops are essential for doing work and school from home. But which one is right for you? A laptop is portable and easy to take with you on the go. A desktop is typically more powerful and has a larger screen.
1

Free Express Shipping! Apple 16.2" MacBook Pro with M1 Pro Chip (Late 2021, Silver) Apple M1 Pro 10-Core Chip, 16GB Unified RAM - 1TB SSD, 16.2" 3456x2234 Liquid Retina XDR Screen, 16-Core GPU - 16-Core Neural Engine, Wi-Fi 6 (802.11ax) - Bluetooth...
View
OptiPlex 7000 7090 Desktop Computer - Intel Core i5 10th Gen i5-10505 Hexa-core (6 Core) 3.20 GHz - 16 GB RAM DDR4 SDRAM - 256 GB M.2 PCI Express
2
OPTIPLEX 7090 TOWER, SMALL FORM FACTOR AND MICRO l Intelligent desktops built to deliver ultimate expandability and performance. IMMERSIVE PRODUCTIVITY Experience better visuals for 3D rendering and 4K monitor use, even with the micro which supports discrete graphics. The new tower is optimized for commercial virtual reality experiences. Designed to support high-end, ready for VR, 220W-class graphics cards, including NVIDIA GEForce RTX 3070, the tower can tackle graphic intensive workloads easilyPOWER THROUGH YOUR WORKDAY Built with up to 11th gen Intel Core i9 processors, experience the most powerful OptiPlex yet. The OptiPlex 7090 tower features a 125W CPU and up to 128GB 3200MHz DDR4 RAM to deliver uncompromising performance. 256 GB...
View
Sanho HyperDrive Dual 4K HDMI 10-In-1 USB-C Hub, Space Gray, HDM1
3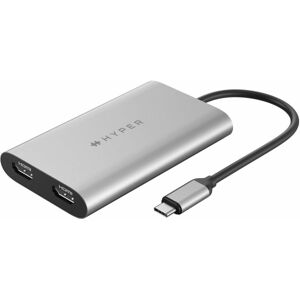 Manage media with ease using the Targus Sanho HyperDrive Dual 4K HDMI 10-In-1 USB-C Hub. This hub offers 10 ports, including 4K HDMI video ports, UHS-I to microSD/SD slots and a USB-C Power Delivery port that allows pass-through charging. Compatible with your MacBook, PC or Chromebook, allowing you to connect to 2 extended monitors for 4K HDMI video. Features 4K 60 Hz and 4K 30 Hz HDMI video ports, a USB-C 100W Power Delivery port, microSD/SD slots, 2 USB-A 5 Gbps ports, a 3.5 mm audio combo jack and more. UHS-I to microSD/SD slots allow uploading and transfer speeds up to 104 Mbps. USB-C 100W PD port allows pass-through charging.
View
Computers
All your computers, computer accessories and computer components can be found at Product Shopper. We offer a huge selection of laptops, monitors, desktops and computer accessories including keyboards, mice, laptop bags, beamers, printers and scanners and data storage and memory. First think carefully about what you want to use your new PC for. Do you want to use the computer on the go? Do you need a powerful computer? Do you want to store a lot of files and need a lot of memory? Answering these questions will help you in finding your new computer and we will provide you with the right computer at the best price.
Please select at least 2 products for your comparison
Show comparison