Top 2 for Baby Care & Hygiene
Organic cotton bibs are a must-have for any new parent. Kave Home's Lupe bibs are 100% organic cotton, making them absorbent and durable. The set of two bibs in beige and turquoise are perfect for any gender. Nivea's Baby Care Fresh & Pure Wet Wipes are perfect for on-the-go cleaning. The 63-pack ensures that you always have a few on hand.
1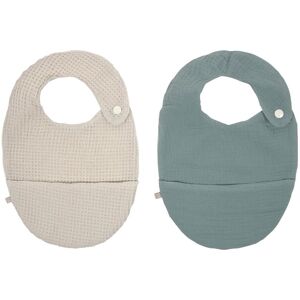 Keep your baby's clothes clean at feeding times with this 100% organic cotton bib set, with waterproof inner layer to avoid stains.
View
Baby Care & Hygiene
Baby care and hygiene is incredibly important for your newborn's health and comfort. Your baby deserves nothing but the best, and to boost your little one's health, hygiene and the right care products play a crucial role. Newborn hygiene care includes for example frequent bathing, skin care, nail care, changing diapers and cleaning the mouth and nose with a bult syringe. Are you getting ready for your baby's arrival or have you recently stepped into motherhood? Getting ready and preparing means you will also have to stock up on a few baby hygiene and care products. All products you would need to ensure your baby receives the best possible care and hygiene, you will find here at Product Shopper. This does not only make your baby feel much more comfortable, it will prevent the little one from possible illnesses too. Have a browse through the baby care and hygiene products to make sure you have got everything you need for your little boy or girl!
Please select at least 2 products for your comparison
Show comparison