Top 3 for Computer Components
Computer components are the hardware that makes up a computer system. This includes the motherboard, processor, memory, storage, and graphics card. Each of these components is important in its own right and helps to make up a complete system.
1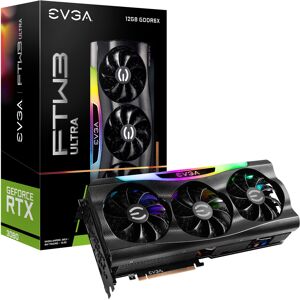 Introducing the EVGA GeForce RTX 3080 12GB graphics cards - Built for and designed for gamers. The new GeForce RTX 3080 12GB features 20% more VRAM compared to the GeForce RTX 3080, more CUDA cores, and faster memory bandwidth to provide more performance headroom for high-resolution gaming and more demanding visual quality settings.DLSS AI Acceleration-Max FPS. Max Quality. Powered by AI.NVIDIA DLSS is groundbreaking AI rendering that boosts frame rates with uncompromised image quality using the dedicated AI processing Tensor Cores on GeForce RTX. This gives you the performance headroom to crank up settings and resolutions for an incredible visual experience. The AI revolution has arrived to gaming.Ray Tracing&lt...
View
MasterLiquid ML360R RGB Liquid CPU Cooler MLX-D36M-A20PC-R1
2

Free Express Shipping! Cooler Master MasterLiquid ML360R RGB Liquid CPU Cooler 360mm Radiator, 3 x 120mm PWM Fans, Customizable RGB Lighting, Micro-Channel Cold Plate, Compatible with AMD & Intel Processors, Compatible with Multiple RGB LED Systems
View
2TB SSD Plus SATA III 2.5" Internal SSD SDSSDA-2T00-G26
3

Free Express Shipping! SanDisk 2TB SSD Plus SATA III 2.5" Internal SSD 2TB Storage Capacity, 2.5" / 7mm Form Factor, SATA III 6 Gb/s Interface, Up to 535 MB/s Sequential Read Speeds, Up to 450 MB/s Sequential Write Speeds, SLC Caching, Includes Cloning...
View
Computer Components
Do you want to build your own desktop PC or are you looking to upgrade your desktop computer? If so, you will need the right computer parts. Are you are looking to upgrade the working memory of your desktop and do you want to find the right RAM memory modules? Or do you want to replace your graphics processing unit for improving the gameplay of your games and you need to find a powerful NVIDIA or Radeon graphics card. Choose the most suitable Intel Core or AMD Ryzen processor for your desktops motherboard. We have everything for your home-built PC.
Please select at least 2 products for your comparison
Show comparison