Top 3 for Water Recreation
If you're looking to get out on the water and have some fun, you've come to the right place. We've got all the gear you need for a great day out on the lake or ocean. From kayaks and wakeboards to life jackets, we've got you covered. So come on in and start planning your next adventure!
1
If you are looking to equip yourself with a life vest that perfectly marries flotation and fishing choose the NRS Raku Fishing Life Vest. This ventilated, thin-back fishing-focused life vest reduces bulk to keep you mobile, comfortable, and supported.
View
Malibu 9.5 Kayak- Unisex
2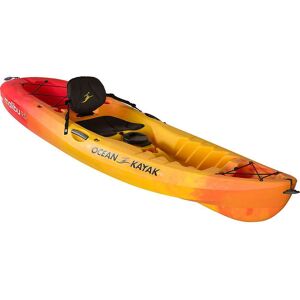 The Ocean Kayak Malibu 9.5 Kayak is a sit on top kayak that blends comfort and Performance in a smaller 9.5' package. This 'yak is easy to paddle and stores well with a stackable, compact design. Paddle solo and do it comfortably with an AirComfort™ adjustable backrest and an AirGo™ molded-in seat and seat pad. Molded-in calf rests and foot wells add another level of security so you can focus on the water ahead. Features of the Ocean Kayak Malibu 9.5 Kayak AirGo™ molded-in seat Comfortable AirGo™ seat pad with adjustable AirComfort™ backrest Splash-resistant QuickStash dry hatch conveniently placed between your legs Hull designed for stability in surf YakLock™ locking bar at the stern for secure storage B...
View
O'Brien System Wakeboard - Red/Black - 135cm
3
O'Brien® System Wakeboard brings great first boards for anyone getting into the sport and the perfect extra wakeboards to keep on hand for adventurous friends. With an extra-buoyant foam core, the System Wakeboard makes getting up and riding vir
View
Water Recreation
Boating and water recreation are popular hobbies these days. Do you like to spend time outdoors and are you a big fan of water sports? Boating might be something you would enjoy too. Do you prefer water recreation like swimming, water skiing, surfing or diving? No problem! For both boating, sailing or general water recreation we have made a great selection of products that might suit you. Are you in need of gear, clothing or tools for boating and water recreation? Have a look and find the products you need at Product Shopper!
Please select at least 2 products for your comparison
Show comparison