Top 3 for Nursery Furniture & Decor
Looking for a stylish and functional high chair for your little one? Check out the Childhome Lambda High Chair! This high chair features a gray finish and a sleek design that will look great in any kitchen. The Lambda High Chair is made from high-quality materials and is designed to withstand years of use. The chair includes a padded seat and backrest, making it comfortable for your child to sit in for long periods of time. The Orchard 5-in-1 Convertible Crib from Storkcraft is the perfect choice for your baby's nursery. This crib features a white finish and is made from sturdy and durable materials. The Orchard 5-in-1 Convertible Crib can convert into a toddler bed, day bed, and full-size bed, making it a great choice for your growing child. The Cozy-Up 2-in-1 Bedside Sleeper & Bassinet from Skip Hop is a must-have for any new parent. This sleeper features a grey finish and a compact design that makes it easy to use in small spaces. The Cozy-Up 2-in-1 Bedside Sleeper & Bassinet includes a padded mattress and a built-in bassinet, making it the perfect place for your baby to sleep.
1
This high chair is suitable for babies from 6 months. It has the clever design that means the chair can grow with the baby with both the seat and footrest being easily adjustable in height without the use of screws, meaning no need to get the toolbox out anymore. A bracket is provided and a 5 point safety belt assures the safety of your baby but as they grow and no longer need this anymore this can be removed, as well as the eating tray which can be collapsed to the back turning the baby highchair into a chair suitable for a toddler. Colour: Anthracite
View
Orchard 5-in-1 Convertible Crib - White
2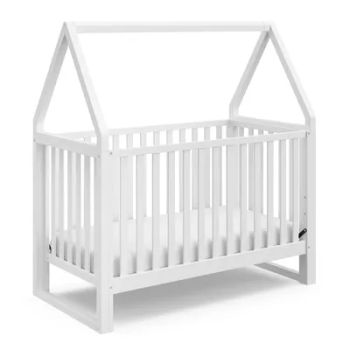 Unlock your child's imagination with the Storkcraft Orchard 5-in-1 Convertible Crib, a one-of-a-kind crib that can transform into a playhouse. Designed to adapt to your growing baby, the Storkcraft Orchard Convertible Crib is equipped with a 3-position...
View
Cozy-Up 2-in-1 Bedside Sleeper & Bassinet - Grey
3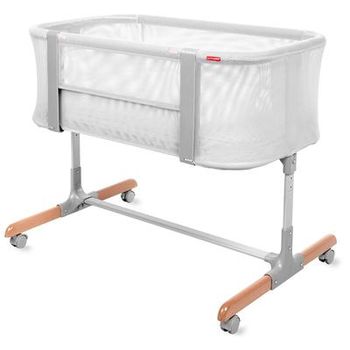 Featuring two ways to use it: bedside sleeper or stand-alone bassinet, our 2-in-1 sleep solution keeps baby comfy and close. In bedside mode, an easy access door panel lets parents lean over to check in, nurse or comfort baby right beside you. In...
View
Nursery Furniture & Decor
In the baby nursery furniture and decor category, you will find everything you need in your little one's nursery. Let's go down the list of your nursery essentials to start your search for the best products. You will need a crib that is first of all safe as well as comfortable for your newborn. He or she can sleep up nto 16-17 hours a day and therefore comfort is highly important. This brings us to the next essential: a mattress! An organic or foam one, there is many different types to choose from. Pick one that you believe is best for your baby for him or her to lay comfortable in the little crib. Also make sure to get a waterproof mattress cover and crib sheets. Next on the list would be a nursing chair and pillow, that will allow you to sit down comfortably while feeding your baby. Your little one will also be in need of clothes and therefore your nursery will need to include a drawer or dresser. You could even lay a changing pad on top to use it as a changing table too. Last but certainly not least: you will need lots of diapers, wipes, onesies, socks and generally clothes, as there will be lots of changing during the day!
Please select at least 2 products for your comparison
Show comparison